With Our Proven Steps, We'll Teach You How To Market Your Talent So That You Can Grow Your Social Media Following and Build A Profitable Brand Online.
The Right Way in the Right Order!
You already know YOUR thing. You just need to be shown how to craft a brand around it.
(Even if you don't think you're tech-savvy and have zero biz experience.)
It's no secret that countless industries have been hit hard during our current health crisis. And the Performing Arts is certainly no exception.
Actually, one could argue that the toll this pandemic has had on artists — in so many capacities — outweighs almost any other profession.
Broadway has been shut down for a year now (and will maybe return this summer)
Cirque du Soleil filed for bankruptcy
Tours aren't happening
Cruise ship talent is out of work
Theme park performers continue to wonder when they'll be recalled
DJs have no venues
And basically, any live in-person performance you can think of featuring singers, dancers, choirs, musicians, comedians, magicians, and the list goes on and on… all STOPPED.
But! We're here to tell you that — as an entertainer / artist / performer — there is absolutely a way to pivot and use your talent to turn things around!
Even while the world is still on hold.
As An Artist, The Best Time to Learn Online Marketing Was Yesterday.
The Next Best Time Is Today.
Growing your brand online isn't just a dream anymore — it's a necessity.
If we've learned anything over the past year, it's that while the world is unpredictable, online businesses and personalities continue to THRIVE.
With the right mindset and tools, artists who think and behave like entrepreneurs will be at an absolute advantage this year (and for decades to come).
We want to give YOU the shortcut in mastering the 8 key areas of online business so that you can profit from your crazy talent.
All you need is an internet connection, your laptop, and a willingness to be guided by mentors who have built and sold 8, 7-figure businesses.
YOU'LL GET SUPPORT
You want to make big things happen…the business you started or idea for a new opportunity… The problem is you don't know where to start and what most people teach in social media wastes time and money.
Marketing Impact Academy provides the exact step-by-step training, plus you'll receive the tools, resources and support you need for success.
HOW IT WORKS
ONCE YOU ENROLL
In Marketing Impact Academy, you'll receive new lessons releasing weekly for 6+ weeks. Your training includes audios, workbooks, walk-through tutorials, charts, PDF downloads, study guides and more. We release new training weekly to ensure you complete the right steps in the right order and have time to implement as you go.
Go At Your Own Pace
Your entire academy is online and can be completed on your own schedule. Content is time-released in a specific order, so you can work at your own pace & revisit lessons any time.
Testimonials from MIA'ers Who Just Happen to Be Creatives
Bret Shuford
@broadwayhusbands
Broadway actor | Life coach | Podcaster
Grew his business to 6-figures in less than 1 year
Instagram | Podcast following grew over 50K in two years
Diane Bleck
@diane.bleck
Doodle Expert
Built two 6-figure online businesses
50k+ followers on Instagram
Whitney Meade
@whitneymeade
YouTuber | Author | Speaker
40,000 YouTube Subscribers
5-Figure Kajabi Earner
Owner of Award-Winning Video Production Company
Nana Monney
@xquisitesoul
Designer
Created a successful business in 90 days
Tripled income
Went from 200 followers to over 10K
Allison Liddle
@allison_liddle
3x Author | Business Strategist
As seen in Forbes, Women 2.0, ABC
Kasey Hope
@pzazzartstudio
Art Studio Owner
Art Studio Owner
Partnered with Crayola
Reaches thousands of students (around the world) with online classes
Makena Gargonnu
@makena7777
Celebrity Event Producer
Celebrity Event Producer
Voted San Diego's Most Influential Woman, by
Life By Design
Melissa K Norris
@melissaknorris
Author | Garden Planner
Launched 4 books, Instagram 36k followers
Tanci
Dancer
CEO of the Turn Up Dance Fitness empire, Instagram 56k followers
Your Biggest Question:
"Is Marketing Impact Academy for me…"
I'm a new business owner

I'm a seasoned business owner

I have a brick and mortar business

I have an online business

I'm just getting started and have no business at all, just an idea

I'm a network marketer, ambassador, or affiliate for other people's products
I sell information or am an educator on a certain topic

I sell a service

I sell a physical product

I have no social media presence yet

I have a passion, but I'm not sure how to monetize it or turn it into a business

I have so many ideas, and I don't know which route to go
The answer is…. YESSSS!! Yes, yes, yes, 1000x!
Marketing Impact Academy is all about building a strong foundation for your business, attracting more of right people to you, and creating passive income (i.e. making that money while you sleep, honey.). These strategies apply regardless of the situation or circumstance.
Whether you want to grow an existing business, start a new one, or simply reach more people, Marketing Impact Academy will help you:
Identify and Establish Your Unique Expertise

Create Multiple Revenue Streams

Master Latest Changes in Social Media

Master Video & Live Streaming

Attract Your Ideal Customer

Grow A Profitable Email List

Increase Profits with Organic Traffic
Build a Captivating Brand

Develop, Test & Release Your Own Products

Set the Foundation for a Solid, Ever-Evolving Business

Learn a Formula for Making Sales without "Selling"

Generate Testimonials That Sell Your Products For You

Maximize Your Social Media & Gain Quality Followers

Blueprint Your Online Business
All while honoring your priorities & building a business YOU love!
Why learn from Bret + Chalene Johnson?
Bret and Chalene Johnson are lifestyle and business experts and motivational speakers. Having built and sold multiple multi-million dollar businesses in 8 different industries, Bret and Chalene now coach others to do the same with their academies, online programs and products like Marketing Impact Academy, Smart Success, How to Hire and the PUSH Journal. Their success in coaching comes from their ability to break down seemingly complex marketing tactics into step by step, paint by numbers to-do's ANYONE can apply.
As a result of their efforts, Chalene has become a New York Times Bestselling Author and was recognized by The Huffington Post as one of the Top 50 Female Entrepreneurs to watch in 2017.
Today, Bret and Chalene run multiple multimillion dollar businesses and two top ranked podcasts Build Your Tribe and The Chalene Show with over 30 million downloads.
Whether you're a network marketer, a social media influencer, a seasoned business owner or a brand new solo, wannabe entrepreneur, Team Johnson has you covered!
"I was creating YouTube videos around my passion, which is doodling, but I didn't have a formal plan for how to grow it into a business. Thanks to Marketing Impact Academy, I learned how to create baby offers, so I could build an email list of my ideal customers, build courses and create a social media strategy and a team to support my growth. Since joining MIA, I've paid off over $125,000 worth of debt, I have 5,000 students online. I've been named one of the top 100 women to watch on Twitter, as well as the top 50 online courses for creativity, and I'm writing my 8th book!"
Diane Bleck
Artist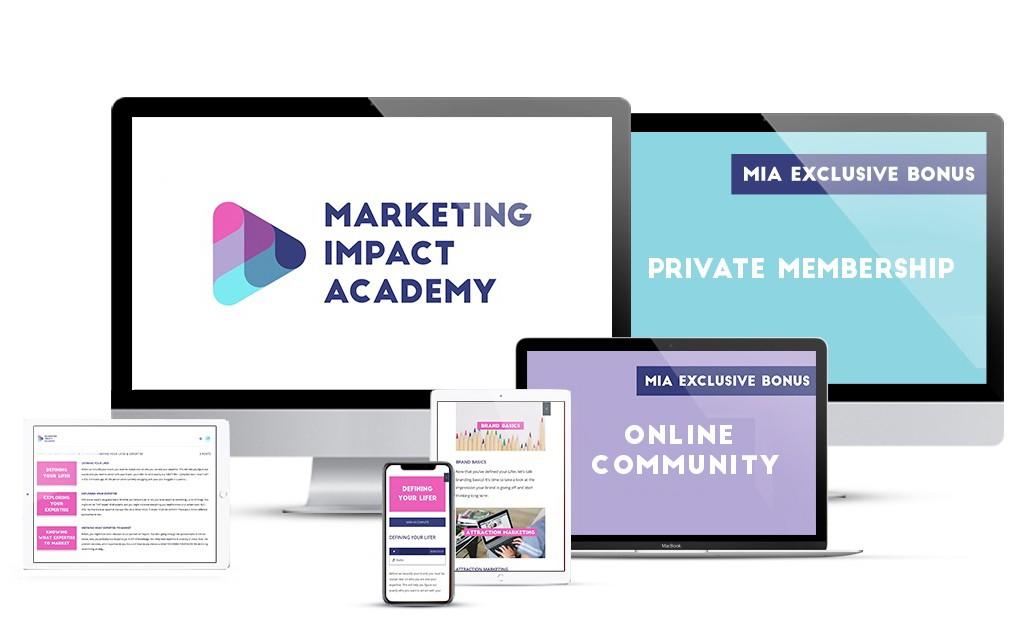 WHAT THE ACADEMY INCLUDES…
Marketing Impact Academy is a paint-by-numbers program that walks you step by step through the process one 20 minute online lesson at a time. Marketing Impact Academy will help you grow your audience, create an impact with your message, get a money making idea out there, convert your followers into your customers and do so without spending money unnecessarily!
Key #1


Brand & Business Foundation

The strongest structures are built on solid foundations. In this Module, we fortify the foundation of your business, brand, message and purpose. Before you create your product or craft the message you want to share, you need a clear understanding of your brand – who you are, what you're about, who you want to work with & where to find them.
Key #2
Freemiums & Email Marketing
We're starting & growing your email list! You need a place to send your followers, so you can collect their email address & continue building the relationship on a platform YOU control.
Key #3


Social Media

Dive into each social media platform and best practices for getting your products into the hands of your ideal customer. You'll also understand where your time is best spent, which platforms your ideal customer is hanging out on, and how to attract them to YOU.
Key #4
Product Creation
Lay the groundwork for what we like to call your "Baby Offer." It's your introductory offer that starts generating revenue, boosts confidence, and allows you to test what works with your audience. You'll also learn how to run test groups and use feedback to tweak and perfect your introductory offe
Key #5


Video & Live Streaming

Video & live streaming have completely leveled the playing field! It's why TV shows, commercials, infomercials or expensive advertisements are a thing of the past to quickly grow a business. We cover everything you need to know to be a video and live streaming pro. While video isn't a requirement for this course or a successful business, it's a HUGE shortcut & speeds up the process 1,000x! With these strategies, shooting videos will be a breeze!
Key #6
Sales & Testimonials
Your story is so incredibly powerful. When you share a story, the right story for a particular situation shared in the right way, you draw people to you like a magnet. Here, we'll unveil the "Sales Formula," so you can get sales without "selling," including how to get your customers to sell for you with testimonials. This is the formula Chalene used to host several #1 infomercials as well as build several multi-million dollar businesses with social media.
Key #7


Content Creation

Learn what we call "The Trickle Down System" – the process of creating one piece of social media content to cover a variety of platforms. Plus, you'll create strategically planned content calendars, so you'll never wonder what to post again!
Key #8
Online Business Blueprint
Once we've got all the pieces in place, it's time to start boosting your business. With this step-by-step training, you'll blueprint your customer journey and set up automated processes in your business. As a result, you can build relationships and turn followers into customers.
This is a Private Invitation to Enroll
JOIN MARKETING IMPACT ACADEMY
BEFORE THE LIMITED OFFER EXPIRES
PLUS
MARKETING IMPACT LIVE RECORDINGS
Access our live event archives from 2014-2021 with amazing guest speakers like Brendon Burchard, Jeff Walker, James Wedmore, Pat Flynn, Lewis Howes, Sean Cannell, Amy Porterfield & more! Plus, you'll receive access to our 2021 virtual event! ($13,000 value)
PLUS
ONLINE INCOME QUICKSTART
Online Income Quickstart is the only course that teaches you easy ways to make money online and recoup your investment fast while developing your longer-term business idea and area of expertise. ($497 value)
PLUS
PRIVATE COMMUNITY MEMBERSHIP
As a MIA member, you have access to our team & community inside the course to ask questions, get answers & share ideas. (Priceless)
PLUS
PRIVATE FACEBOOK GROUP
Connect with other amazing MIA members on a more personal level to gain valuable insight, ideas, and support from your peers. (Priceless)
EVERYTHING YOU NEED TO SUCCEED
AUDIOS & TUTORIALS
Learn exactly how to find & attract your ideal customer as well as grow & scale your business. Designed for on-the-go learning.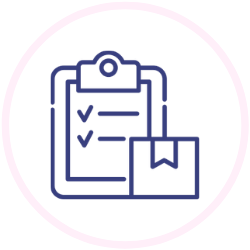 PLAYBOOK & CHECKLIST
Fill in questionnaires and check-off the right steps in the right order. Know exactly what to do next – it's plug & play!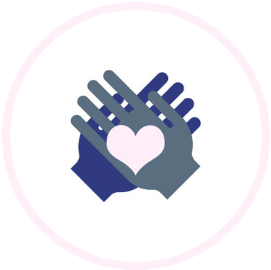 COMMUNITY & SUPPORT
Surround yourself with people on the same track. Get feedback from our community & the support you need from our team.
You Can Start Building Your Business Today!
Let's Make It Happen!
100% Money Back Guarantee.
With Marketing Impact Academy, there's no risk! If within 14 days, you are not 100% satisfied, just turn in your homework, and we will give you a full refund.
Tiana Gustafson

Business Coach
"Implementing what I learned in MIA into my business has grown my business from a few thousand a month to a 6 figure business. Creating a system for my business and marketing plan has allowed me to enjoy my family time more and to systemize my life."
Christa Biegler
Nutritionist
"This program has given me the FOUNDATION of my business. As a new entrepreneur or someone looking for "more," but not sure how achieve that, MIA gives you the tools you need to build a solid foundation for your business and straight up FIGURE IT OUT. Having the stable foundation from MIA has allowed me to breathe easier, stop chasing "squirrels" and faux inspiration from several other places and just allow me to put blinders on enough to focus and advance my own work."
Jimmy Hays Nelson
Network Marketer & Marketing Coach
"When I learned to create systems and market my story with Marketing Impact Academy, I tripled my income. Now, I can unplug without it affecting my earning potential."
Frequently Asked Questions
Will this help my business? I'm in network marketing, rep a product, have a brick and mortar, provide services or education, have a physical product, etc.
If you want GROWTH, the answer is YES! We teach you exactly how to scale and reach more people, no matter what type of business you have.
Is this only for business people? What if I'm just getting started?
You don't have to have a business to start Marketing Impact Academy. In fact, going through the Academy will make it clear what type of business you should start, and how to do things the right way from day 1.
All you need is an idea for a business you'd like to create, a service you'd like to offer, or a passion you'd like to turn into a business.
Note: If you don't have the slightest clue what you're excited about, MIA is not for you.
Will this help me make more money?
We can't make any financial claims, but the focus of this program is learning how to set up multiple income streams.
You'll have immediate access to lessons on setting up your own online store and sourcing products, so you can start selling something online, even if you don't already have a product.
While we can't make financial guarantees, the majority of people who follow the simple steps outlined in the academy do make more money.
Can I do this? Do I have the time and tech-savvy?
I know the average business owner is already busy trying to do everything themselves. Marketing Impact Academy ultimately saves you time, because we teach you how to streamline and outsource everything.
If you're worried about tech, know that I explain everything in what I like to call "girlfriend speak." I am not a tech-savvy person, but I've figured out a way to make this doable and super easy, and I'd like to think I'm a really good teacher because of that!
Everything is broken down into bite-sized, easy-to-digest pieces. And you have lifetime access, so you can never "get behind." It will always be there for you, and you can go at your own pace.
What if I don't have the time to do this program? I already have so many things on my plate.
You can listen to the trainings from anywhere – in the car, on your phone, on your computer.. Look at your schedule each week: How much time are you spending watching TV and scrolling through social media?
How long do I have access to the course?
You have lifetime access! You will have the latest info and tools in social media and marketing.
I don't live in the US – can I still do this program?
Absolutely! As long as you have a computer, mobile phone, or another method to pull up an online course, you're good to go. We have thousands of international customers who have created success with Marketing Impact Academy.
What if the people in my life don't support me in doing this?
Oftentimes, when you don't have the support of other people, it's simply because they don't fully understand what it is that you're doing.
The good news is, you have 14 days to try the program out and share what you're doing with the people you care about, so they can get on board.
MIA is setup to help you make money as you grow, rather than spending tons of time on building before seeing an ROI. By following through on each step, you can show the people in your life what's possible with MIA.
Do you offer a guarantee?
Yes, we believe in this program so much that we offer a 100% Money Back Guarantee. If within 14 days you're not 100% satisfied, just turn in your homework and request a refund.
Let's Do It!
You Can Start Building Your Business Today!
Marketing Impact Academy is Open for a Limited Time Only! Don't Delay!